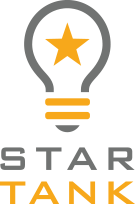 Think you have the next big thing? Roanoke Star Tank wants to help you get it off the ground.
Star Tank has announced a new event: the Star Tank Tip-Off on May 14, 2015 in the Grandin CoLab. Star Tank will keep their main event in November, which is a local version of the ABC show "Shark Tank" in which entrepreneurs pitch their product or idea to investors, who then have the opportunity to invest. 
The new Tip-Off program aims to fill in the gaps between marquee Star Tank events in the fall. The Tip-Off will focus on business development by allowing start-ups, inventors, and entrepreneurs the opportunity to present their pitch and receive feedback. 
If you are interested in participating in the Tip-Off, register onlin at roanokestartank.com >>>